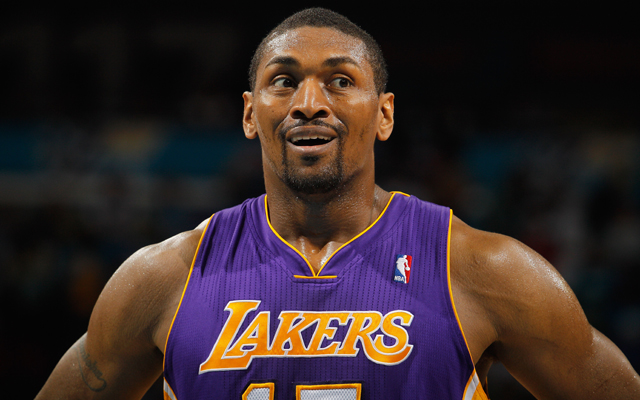 Metta World Peace wanted to retire as a Los Angeles Lakers player, but he concedes the team did the smart thing by waiving him.
World Peace was released by the Lakers this month via the amnesty provision. He was owed just over $7 million for the upcoming season, and the Lakers may have saved themselves double that amount because of luxury tax implications.
Speaking from the set of a Hallmark Channel TV show on Friday, Metta told the LA Daily News that he would have released himself too if he were the Lakers.
"I think it's a good move," World Peace told the Daily News' Mark Medina. "If I was the franchise, it's different. But not being the franchise, they have to make a decision.
"They saved more money," World Peace said. "But if it was me, I would've made a bold decision and saved more money."
World Peace told Medina he would have amnestied everyone except franchise player Kobe Bryant (teams are only allowed to amnesty one player, so that would have been impossible). Metta signed a two-year, $3.2 million deal for the veteran minimum with the New York Knicks. He still will be paid the difference between what the Knicks signed him for and what the Lakers owed him.