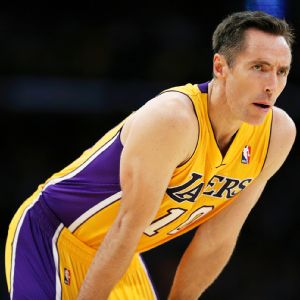 After a 19-year NBA career in which he twice won MVP honors, tallied the third-most assists in league history and assured his place in the Hall of Fame as one of the greatest point guards ever to play the game, Steve Nash formally announced he is walking away from the game Saturday in a letter published on The Player's Tribune website.
"The greatest gift has been to be completely immersed in my passion and striving for something I loved so much -- visualizing a ladder, climbing up to my heroes," Nash wrote. "The obsession became my best friend. I talked to her, cherished her, fought with her and got knocked on my ass by her.
"And that is what I'm most thankful for in my career. In my entire life, in some ways. Obviously, I value my kids and my family more than the game, but in some ways having this friend -- this ever-present pursuit -- has made me who I am, taught me and tested me, and given me a mission that feels irreplaceable. I am so thankful. I've learned so many invaluable lessons about myself and about life. And of course I still have so much to learn. Another incredible gift."
Nash, who didn't play this season with the Los Angeles Lakers because of injuries, finishes his career with 10,335 assists, third-most in NBA history behind John Stockton and Jason Kidd.
Nash also is the most accurate free throw shooter in NBA history, edging Mark Price's career mark at 90.4 percent. And for nine straight seasons from 2001-02 in Dallas through 2008-09 in Phoenix, Nash quarterbacked squads that ranked No. 1 in the league in offense.
Despite several health struggles late in his career with the Suns, the Lakers in 2012 gave Nash a three-year, $28 million deal and mortgaged their future by shipping four draft picks to Phoenix.
But Nash's tenure in Los Angeles was mostly miserable.
He broke a bone in his left leg in his second game and missed the next 24 in 2012-13. Last season, more health issues sidelined Nash for all but 15 games. And because of back, knee and hamstring issues, Nash played in just 65 of a possible 164 regular-season games the past two seasons with the Lakers.
Nash is due about $9.7 million this season. His salary counts toward the Lakers' cap.
The British Columbia product starred at Santa Clara before starting his NBA career with the Suns, who traded him to Dallas in 1998. He established himself as an elite point guard while playing alongside Dirk Nowitzki and Michael Finley with Dallas, but returned to Phoenix in 2004 on a lucrative free-agent deal.
The 6-foot-3 Nash won consecutive but unlikely MVP awards in 2005 and '06 as the catalyst for one of the most prolific offenses in NBA history under coach Mike D'Antoni. His playmaking and scoring earned him worldwide recognition and eight All-Star Game selections, including his final season with Phoenix in 2011-12.